The international professional competition "World SKILLS" is held every two years. Applicants from 85 countries up to the age of 22 compete to win medals and bring home the title of world champion. In the process, they demonstrate their technical skills in a wide variety of trades and try to implement challenging projects and tasks as flawlessly as possible.
In addition to gold, silver and bronze, the "Medallion for Excellence" award is also presented. This recognizes top performance even if a very good participant did not make it onto the podium against particularly strong competition.
Seven of the competitions out of a total of 60 competition professions took place in Austria in 2022, including electrical engineering, "industrial control," concrete construction and freight forwarding logistics. The competition projects are designed and tested in advance so that all participants have a fair chance of completing the project on time. Details remain secret until the start of the competition, and the evaluation is based on a points system. If a participant achieves 700 points or more, he or she has delivered a top performance.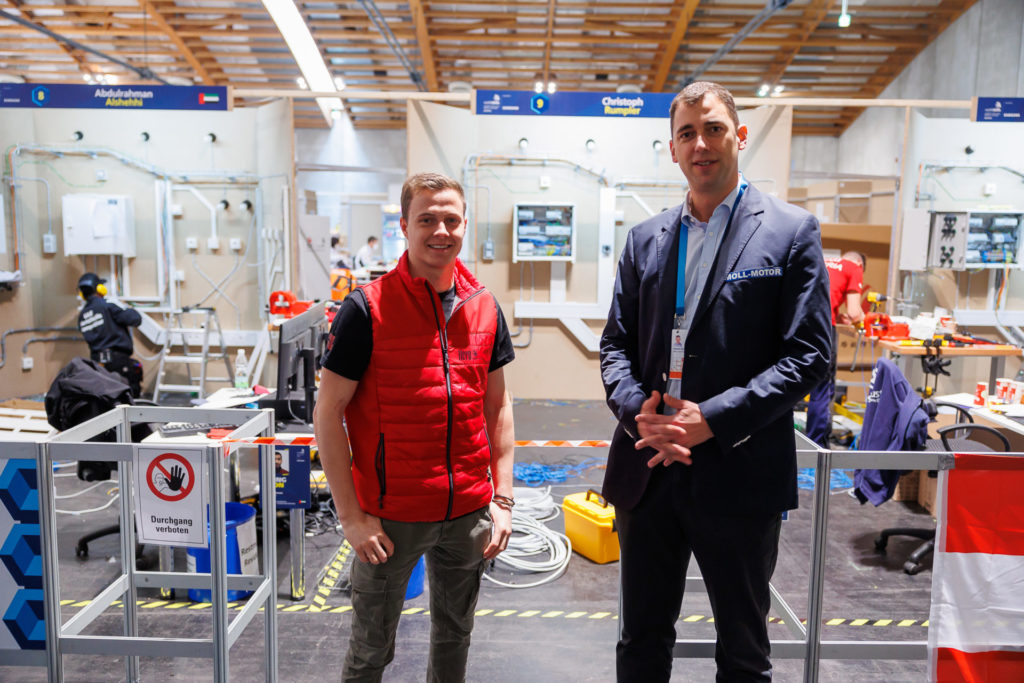 In the competitions in electrical engineering, our motors were used, which had to be connected and put into operation by the participants in star-delta starting circuit. Unlike other manufacturers, we were able to provide the motors in the appropriate winding design from stock, so we were able to make our contribution to the success of the competition. The world champion title was won by Shouan Yu from China and SHENG-RU XIAO from Chinese Taipei. 12 of the 23 participants achieved the "Medallion for Excellence" award by breaking the 700-point mark, including Christoph Rumpler from Styria (photo above) and Maximilan Schaffrath from Germany, who is just connecting the engine in the photo.
The competitions took place between November 23 and 27 at the Salzburg Exhibition Center, and except for the closing ceremony, participation was free. The "World SKILLS" took place at the same time as the Vocational Info Fair, where people could find out about training and further education opportunities in Austria. The event team was also in lively exchange with media and sponsors from different countries to exchange information about apprenticeship training in Austria and to promote it. After all, the great successes of the participants from Austria are partly due to apprenticeship training, which so far only exists in a few countries in the world.
MOLL-MOTOR has been training apprentices for decades. In the history of our company, more than 100 apprentices have successfully completed their apprenticeships with us, and some of them have even taken part in apprentice competitions. For the most important profession for us, mechatronics, the world championship elimination took place in October in Stuttgart. Here, Gregor and Jakob Litschauer from Lower Austria were allowed to compete for Austria and also achieved the "Medallion for Excellence" award, for which we offer our warmest congratulations.
We are happy with all participants about the success at the championships and to have been present as a supporter with our electric motors. Here are some more impressions from the event in Salzburg: